Our partnerships are designed with dedication to our HVAC solutions—with benefits beyond better end results and owner experience. We demonstrate our dedication to our construction partners through protecting their margins and promoting faster cash flows.
Leading the way with a global HVAC leader.
Our partnership with Daikin is just one way we connect clients with the latest HVAC technologies for better control, efficiency and quality.
Daikin Applied's commitment to innovating beyond today has resulted in proven solutions for commercial, industrial and institutional buildings. Expertise and continuous investments in advanced technology and sustainability set Daikin Applied apart as a proven partner.
Protecting margins starts with accuracy and solutions as unique as each project. Our expertise in the design phase can provide monetary  advantages for both the project and our partners.
Collect earnings faster through our process that puts a successful completion at the forefront because we know that setting expectations is just as important as meeting them.
Top of the product lines.
We partner with the best product lines to bring the latest HVAC systems and equipment.
Download the Product Line Cards
Cool down costs with ChillerXTEND
Our service program protects legacy systems and your bottom line.
Get to the bottomline with an HEP Deep Dive.
Our dedicated team of engineers and systems experts help you discover cost-effective and performance-enhancing solutions.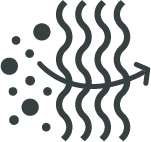 Raise the IQ of IAQ.
We offer next-level solutions to set a higher standard for better air quality across all industries.
Let's take a deep dive into your HVAC challenge in a one-on-one session with a HEP engineer. Just a few minutes can kickstart our conversation.