Commercial HVAC Excellence
The freedom to do and outdo is the HEP difference. We empower success for our partners by delivering comfort and control no matter what. Your building's purpose stays the focal point with a team focused on your success, today and tomorrow.
Experience equals safety with long-tenured HVAC experts who anticipate hidden challenges that stall progress. Take comfort with the confidence that safe and innovative solutions are at the core of everything we do.
.68 EMR SAFETY RATING
~25 Degreed Engineers
~60 Journeymen
Choice is the ultimate expression of confidence. Clients choose us, year after year, because we provide endless custom solutions as well as open protocol systems — creating the ultimate level of access and control.
30 HVAC Lines
Open Controls, including Tridium, KMC Controls and JCI ABCS
Represent Daikin, World's Largest HVAC Manufacturer
FREEDOM AROUND THE CLOCK AND AROUND THE CORNER
Respect the unexpected with 24/7 service and local techs dispatching from four office across Arkansas and Oklahoma. No matter who broke it, we'll be there to fix it.
Over 175 Associates
~90 Local Service & Controls Technicians
Servicing over 6,800Calls Annually
 New Systems and Equipment
Download the Product Line Cards
Let's talk! Looking for a part or need to get in touch with an engineer? Complete this form and we'll send you an email to learn more about how HEP can help.
extended equipment lifespan
Our employees are the secret to our success.

Harrison Energy Partners celebrates both personal and company wins. We strive to foster a strong supportive culture, where both personal and professional growth is a priority.
Cool down costs with ChillerXTEND.
Our service program protects legacy systems and your bottom line.
Get to the bottomline with a Deep Dive.
Our dedicated team of engineers and systems experts help you discover cost-effective and performance-enhancing solutions.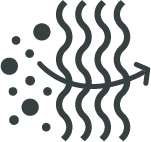 Raise the IQ of IAQ.
We offer next-level solutions to set a higher standard for better air quality across all industries.