Change is the only constant. New solutions to old problems are how we adapt and deliver the HVAC solutions our clients need. We've changed over the years, but our commitment to service hasn't.
Systems and equipment run at peak performance and last longer with regular checks. Maintenance agreements protect assets and provide financial benefits beyond decreased energy usage. The life of a system is extended by 10 years, on average, when routine maintenance is performed.
HEP Maintenance Agreements
From preventative check-ups to routine maintenance and 24/7 service for the unexpected, HEP resolves issues across a broad equipment spectrum, including Daikin, Carrier, Trane and York.
Extend the life of your mechanical systems with check-ups. Our technicians use the latest diagnostic tools and procedures to tune-up system and equipment's efficiency using system analytics, including:

Component Wear Analysis
Oil & Refrigerant Analysis
Eddy Current Tube Testing
Computerized Run Time Tracking
From routine filter change-outs to complete compressor rebuilds, our technicians lead the industry in delivering value for our clients.

Compressor Overhauls
Equipment Retrofits
Tube Replacement
Variable Air Volume Calibration
Water Treatment
Operator Training
Rental Equipment
Fan Balancing
Emergency repair services and parts are always available 24 hours a day, 7 days a week. Call (866) 626-1638 for emergency assistance.
Let's take a deep dive into your HVAC challenge in a one-on-one session with a HEP engineer. Just a few minutes can kickstart our conversation.
Cool down costs with ChillerXTEND.
Our service program protects legacy systems and your bottom line.
Get to the bottomline with a Deep Dive.
Our dedicated team of engineers and systems experts help you discover cost-effective and performance-enhancing solutions.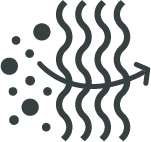 Raise the IQ of IAQ.
We offer next-level solutions to set a higher standard for better air quality across all industries.