HEP is committed to open protocol control solutions as a Johnson Controls Authorized Building Controls Specialist as well as through our relationship with KMC Controls. 
Our solutions bring innovation and engineering excellence through our open Niagara®-based building  automation systems, giving our clients more flexibility with their controls systems.
During our Deep Dive, we jump in to find the most cost-effective and performance-enhancing solutions possible.
Unlock your building's potential with a trusted ABCS controls partner. Our partnership with Johnson Controls delivers industry-leading energy solutions backed by decades of combined experience.
FACILITY EXPLORER
Take charge of your building's automation with efficiency-enhancing, open protocol controls. Whether for new construction, an upgrade to existing system, building system integration, maintenance or component replacement, HEP's vast experience with complicated projects makes our open Niagara®-based building automation systems the simple solution.
Single and Multiple
Building Control Systems
Variable Frequency
Drives
Stay in charge. Anywhere.
Open source means more than control over your system, it also means freedom of choice. We fully support open protocol control solutions and its benefits. Our clients have control that flexes with their needs without being bound by software and agreements.
Efficiency erodes over time, even in high-performance buildings. There are many factors that contribute to an operating system's breakdowns, from poor operation procedures to irregular maintenance. Our open protocol control solutions put you back in charge of your building's energy consumption.
HEP offers multiple strategies to help you


unleash your building's efficiency:
Equipment and System Upgrades
Building System Monitoring
With required proprietary software we believe that your results and our commitment to your building will be all the reasons you need to choose HEP year after year.


While we know open controls allow you to choose anyone, we also know that not everyone can provide the same experience, service and results that our team of controls technicians and programers provides 24/7.
Let's take a deep dive into your HVAC efficiency in a one-on-one meeting with a HEP engineer. Just a few minutes can kickstart our conversation.
Cool down costs with ChillerXTEND
Our service program protects legacy systems and your bottom line.
Get to the bottomline with a Deep Dive.
Our dedicated team of engineers and systems experts help you discover cost-effective and performance-enhancing solutions.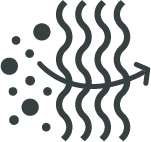 Raise the IQ of IAQ.
We offer next-level solutions to set a higher standard for better air quality across all industries.